17.09.2012 - 14:54
WoW: Mists of Pandaria - Tryb Wyzwań
Zbliżający się dodatek do legendarnej już gry MMORPG pod tytułem World Of Warcraft opatrzony nazwą Mists of Pandaria okazuje się prawdziwą gratką dla fanów gry PvE, a chodzi przede wszystkim o Tryb Wyzwań, czyli instancji wykonywanych na poziomie heroicznym tylko przez jedną osobę w sprzęcie niskiego poziomu, który w razie potrzeby zostaje odpowiednio zeskalowany, dajmy na to: w przypadku posiadania przez gracza "zbyt dobrych" przedmiotów, dzięki czemu wszyscy mają równe szanse. Gracze będą mogli ze sobą rywalizować w kategoriach takich, jak na przykład najlepszy czas wykonania instancji, dzięki czemu zdobędą dodatkowe Valor Points do wymiany na nowe bronie i zbroje. Każdy będzie mógł sprawdzać swoje wyniki na specjalnej tablicy.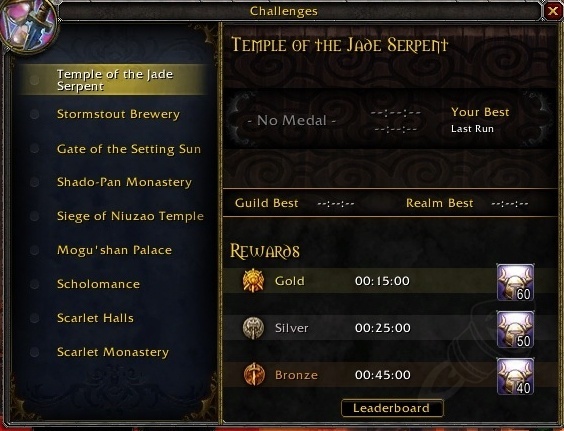 Dodał: wojbik
Post comment
Komentarze
Guest written :
02.10.2013 - 09:42
I don't feel that PvD content is viblae as an e-sport on a long term basis. Part of the excitement of all competitive e-sports today is the direct pitting of one team against another in a PvP environment I can't think of any e-sport that doesn't do this. WoW's problem is that it has both PvE and PvP concerns when the developers tried to balance around PvE, people didn't take the development of arenas as an e-sport seriously, and they couldn't balance around PvP since the overwhelming majority of the playerbase were PvE players. Given this, if you try to make an e-sport out of dungeons, you're necessarily forced to balance around those dungeons. It would require essentially a redesign of the game in order to make this happen you'd have to have separate talent trees for PvP and PvE, separately balanced to ensure that teams had the ability to compete effectively while not being cookie-cutter (would decrease enthusiasm for spectators) and still not affect the rest of the game. Heck, I'm not convinced that raiding wouldn't be affected as well some things that balance on a small scale don't necessarily balance on a larger scale in the same way. With all of these balance concerns in other aspects of the game, they'd need a much larger dev team and ActiBlizz has been trimming back the dev team on WoW.To make dungeons viblae as an e-sport, not even looking at the above paragraph, Blizzard would also have to jack the requisite difficulty through the roof for a legitimate proscene to develop. Gold medals would have to be something that only the best of the best in the WORLD could achieve and given Blizzard's penchant for making WoW, even its most difficult content, accessible to entry-level players, I doubt this will actually happen.TLDR: I think it's possible but very unlikely. http://cdannrke.com [url=http://ogqheurafe.com]ogqheurafe[/url] [link=http://oftwwo.com]oftwwo[/link]
Guest written :
01.10.2013 - 00:44
Oh, I may have to take a gander at what you have brewnig and cooking here As for LUA, BAH, it's a garbage script kiddie language IMO Almost like LISP is for AutoCADCya on the forums, and will be poking around here seeing all that you've been brewnig up.